Angry Bear Black Malt- Pauls Malt 55lb Sack
PRICING AVAILABLE UPON REQUEST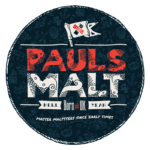 Description
Identical in flavour with high-end chocolate malt, but higher in colour. We produce this malt at our Pauls Malt Ltd. plant in Knapton, North Yorkshire, UK. Black malt is produced by roasting kiln-dried malt to temperatures of up to 240°C for slightly longer periods of time than regular Chocolate Malt. Water is used to extend the roasting time and for quenching and cooling at the end of a roast to prevent combustion.
Color(ASBC) 660-815
Extract FG 73% Min
Moisture 4% Max
Usage Rate 3-12%
Brand
Pauls Malt
From sending delivery boats to rescue Allied troops from Dunkirk in 1940 to supplying breweries around the world with malt today, Pauls Malt possesses a rich history and excellent reputation as an iconic British maltster.
As proud members of Boortmalt, the world's leading maltster, we're proud to offer our customers across North America a broad selection of world-class malts from this historic brand.