Balmy Skies Mild Ale- Pauls Malt 55lb
PRICING AVAILABLE UPON REQUEST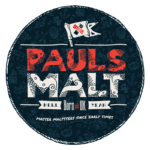 Description
Sweet, nutty flavours for traditional English styles. Mild Ale is made with a reduced germination period during malting. There is some colour formation in germination due to extended recirculation. The curing phase of kilning will be at higher temperatures for flavour and colour development.
Color(ASBC) 3.5-4.5
Moisture 5% Max
Extract FG 81%
Protein Total Up to 11.6%
Usage Rate 10-60%
Brand
Pauls Malt
From sending delivery boats to rescue Allied troops from Dunkirk in 1940 to supplying breweries around the world with malt today, Pauls Malt possesses a rich history and excellent reputation as an iconic British maltster.
As proud members of Boortmalt, the world's leading maltster, we're proud to offer our customers across North America a broad selection of world-class malts from this historic brand.