Chocolate Malt- Muntons 55lb Sack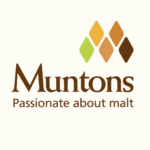 Description
Our range of roasted malts includes light chocolate malt, chocolate malt and black malt. These are made to exact specifications through the roasting
of malt. Ideal for the brewer to achieve a high level of color addition and to introduce burnt coffee, chocolate, burnt toast and charcoal notes to dark
beers such as Brown Ales, Mild Ales, Stouts and Porters, or to intensify IPA's and bitter style beers.
Applications:
Suitable beer styles include Pale Ale, Amber Ale and IPA at low inclusions, in addition to brown ale, stout, porter at higher
percentages. Dark brown/ruby color, offering burnt coffee/rich chocolate bean and bitterness.
Analytical Specification (ASBC Methodology):
Color SRM (Min) 431
Color SRM (Max) 619
Color L (Min) 319
Color L (Max) 458
Moisture Content 6.00%
Additional information
| | |
| --- | --- |
| Weight | 55 lbs |
| Malt | Whole, Crushed |