Dead Straight Amber Malt- Pauls Malt 55lb Sack
PRICING AVAILABLE UPON REQUEST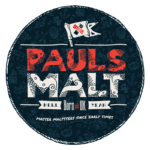 Description
Dry, light biscuit flavour with slight coffee undertones. We produce this malt at our Pauls Malt Ltd. plant in Knapton, North Yorkshire, UK. Amber malt is a more toasted form of pale malt, with green malt being roasted at temperatures of 150–160°C.
Color(ASBC) 23-46
Brand
Pauls Malt
From sending delivery boats to rescue Allied troops from Dunkirk in 1940 to supplying breweries around the world with malt today, Pauls Malt possesses a rich history and excellent reputation as an iconic British maltster.
As proud members of Boortmalt, the world's leading maltster, we're proud to offer our customers across North America a broad selection of world-class malts from this historic brand.