Pilsner Malt- Muntons 55lb Sack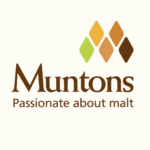 Description
Muntons Pilsner Malt provides the perfect base for craft lager. This malt, which is related to our traditional Lager Malt, ensures that the brewing
process will be as smooth as possible. With our Pilsner malt, we have slightly increased the modification and reduced the Beta Glucan level by 45%.
Not only does this improve the brewing performance but it also adds flavors reminiscent of honey and freshly baked cookies.
Analytical Specification (ASBC Methodology):
Color SRM (Max) 1.9
Color L (Min) –
Color L (Max) 1.9
Extract Yield Dry Basis Coarse Grind 80%
Extract potential (S.G.) 1.037
Total Protein, dry (Min) – 10.00%
Total Protein, dry (Max) 11.56%
Soluble Nitrogen Ratio – SNR (Min) 38
Soluble Nitrogen Ratio – SNR (Max) 44
IoB Wort Beta Glucan 450g 150
DP Linter: 67
Moisture Content 5.00%
Additional information
| | |
| --- | --- |
| Weight | N/A |
| Malt | Whole, Crushed |