Keep Flying Maris Otter- Pauls Malt 55lb
PRICING AVAILABLE UPON REQUEST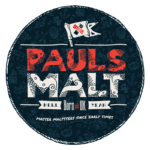 Description
Introduced in 1965, Maris Otter barley is one of the oldest varieties still used to produce high-quality malt for breweries around the world. It is particularly popular amongst our craft brewing customers due to its ease of use and marketability is the perfect base malt to create those traditional real ales. 100% British Maris Otter barley specifically tailored by our maltsters for the needs of the craft brewer. Smaller designated craft malt batches are malted in our Boby Malt house in Bury St Edmunds, UK, to achieve a unique Maris flavour with a deeper colour and sweet biscuit flavour.
Color(ASBC) 2.0-3.0
Moisture 3.0-4.5% Max
Extract FG 81
Protein Total 8.5-10.2%
Usage Rate Up to 100%
Brand
Pauls Malt
From sending delivery boats to rescue Allied troops from Dunkirk in 1940 to supplying breweries around the world with malt today, Pauls Malt possesses a rich history and excellent reputation as an iconic British maltster.
As proud members of Boortmalt, the world's leading maltster, we're proud to offer our customers across North America a broad selection of world-class malts from this historic brand.