Melanoidin Malt- Maltear 55lb Sack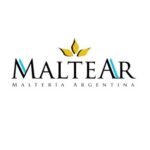 Description
Melanoidin malt: Due to a soft stewing, sugars and amino acids are generated, which later in the kiln produce melanoidins. It consists of  complex aromas and flavored products that make the malt have a unique character that has an intense red hue and a characteristic malty aroma.
Aspect Dry clean grain, free of insects and
external moisture
Odour Fresh, aromatic, typical, absence of
foreign odours
Moisture content % < 4.5
Extract (dry substance) % > 74
Color EBC 60 – 80
NDMA ppb ≤ 2.5
Additional information
| | |
| --- | --- |
| Weight | N/A |
| Malt | Whole, Crushed |
Brand
Maltear
MALTEAR
is an Argentinian malt producer, created in 2008 with all national capital. We have more than 15 years of experience in brewing and malting and in the management and production of malting barley as producers of this crop. That is why we have very good technical and commercial knowledge of the barley-malt-beer chain.