White Wheat Malt – Briess 50 LB Sack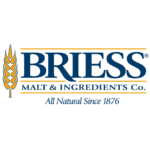 Description
WHEAT MALT, WHITE
Sweet, malty, wheat, mild bread dough
This wheat malt contributes a light straw color and can be used as a part or all of your base malt in wheat beers.
Usage Levels / Beer Styles
5% Improves head and head retention in any beer style
10-20% Typical usage in a Kölsch beer
30-40% Use with raw wheat or wheat flakes in traditional Belgian Wit
50% or more Functions as base malt when used alone or with base malt in American Wheat beers
Additional information
| | |
| --- | --- |
| Weight | N/A |
| Malt | Whole, Crushed |
Brand
Briess
Welcome to Briess. The fact you're here means you not only enjoy brewing great beer, but you seek the unique flavors, colors, and brewing performance that only fine handcrafted specialty malts can deliver. Since 1876, we've been supplying the brewing community with the highest quality malts in the industry. And for the past four decades, we've distinguished ourselves by developing the most extensive line of specialty malts produced by any malting company in the world. We provide everything from a full line of malts to pure malt extracts, brewers flakes, and filtering aids. But don't just take our word for it. Check out our story, our commitment to quality, and our sustainability initiatives. Look through our line of malts and grains. Ask a question to our team of experts. We want to help optimize your brewing experience.