Spring Preparation & Finding Our Contract Growers
What We've Been up To
Here at Buck Creek Hops we take advantage of every season – even winter. We've spent the last few months getting our growing schedule in order and planning this year's yield.
What We're Doing Now
Now that spring is here we're in the field, scouting the rows and prepping soil. Preparation is very important when it comes to hops farming, from your soil to the machines you use. Since hops farming is very labor intensive, we've also begun lining up our labor.
We are working closely with all of our contract growers to ensure they are on track with their equipment and products. In addition, we've had great meetings with brewers and other hops farms, sharing information and networking.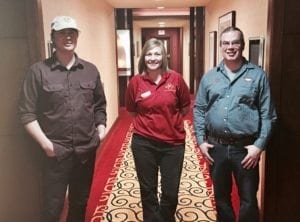 Recently, we had an amazing Annual Alliance Meeting, which included presentations from Diana Cochran from ISU, Chris Preibe from Millstream Brewing Company, and Christian Peterson, our on-staff horticulturalist.
Going Forward
As we go forward into the planting season, we will continue to take start-up grower consultations. We are still accepting new Buck Creek Hops contract growers as well.
If you're interested in being a contract grower with us, fill out our hop farm start up information form!