Hops Are Growing Quickly!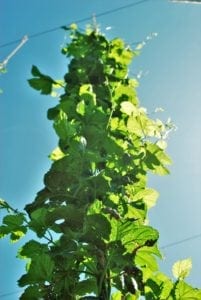 Our hops are growing like crazy! It's not uncommon to see the plants growing 6-12 inches a day right now. This of course means we've really got our work cut out for us in the summer months.
When the plants grow this quickly they require a lot of nutrients. We are constantly fertilizing our plants to keep up with their demand. They're hungry! We monitor our nutrient inputs thoroughly to ensure we don't over-apply and harm the plants or the environment.
At this time of year we also monitor our pest and beneficial insect populations. We specifically look for spider mites, leafhoppers, and Japanese Beetles, as well as downy mildew. New growth means unprotected growth, so we follow our IPM program rigorously.
These last few weeks have been very hot and dry, so irrigating our crops properly has been of the utmost importance. Monitoring our soil moisture levels regularly helps us ensure our plants are as healthy as can be.
Iowa Festival of Beers
Be sure to mark your calendar for the Iowa Festival of Beer! It takes place at Millstream Brewing Company on Sunday, September 3rd from 1-5 P.M.
"The Festival of Iowa Beers is the state's longest running beer festival held each year on the Sunday before Labor Day at Millstream Brewing Company in Amana. Debuting in 2005 with 300 attendees sampling beers from eight Iowa breweries, today, IFoB attendance is capped at 1,200 while featuring over 30 Iowa breweries."
-Iowa Brewers Guild
2017 Harvest – Fresh Hops for Sale!
We are now taking reserve orders for FRESH hops from our 2017 harvest. Available hop varieties include Cascade, Chinook, Columbus, Nugget, and Triple Pearle.
Reserve your hops today and we'll contact you the day we're harvesting your chosen variety(s) for same-day pick up! You can email Erica directly at erica.schreck8584@gmail.com or visit our contact page to place your order now!